Two Carnival Cruise Line ships collided into one another on Friday morning in Mexico, injuring several people.
At around 9 a.m. local time, the Carnival Glory ocean liner ran into the Carnival Legend vessel as it was steering to dock at a port in Cozumel, Carnival said in a statement to news outlets. The Legend "was already alongside" when the other ship made contact with it, the company told USA Today.
"We are assessing the damage but there are no issues that impact the seaworthiness of either ship," the statement said. "We have advised guests from both ships to enjoy their day ashore in Cozumel."
In the incident, six people were injured, according to Carnival. Those injuries were described as minor.
The Carnival Glory is 952 feet long and can hold roughly 3,000 passengers, according to the firm's website. The ship departs from New Orleans and is used for cruises around the Caribbean.
Meanwhile, the Carnival Legend is 963 feet long and can hold 2,000 passengers, departing from Baltimore; Barcelona; London; New York; Tampa, Florida; and Venice, Italy. The ship is used to cross the Atlantic.
"The crash wasn't too bad," a passenger on the Legend, Mary Anne McKinley, told CNN. "Just felt like a big wave crashing into the ship."
A passenger on the Carnival Glory described a similar situation.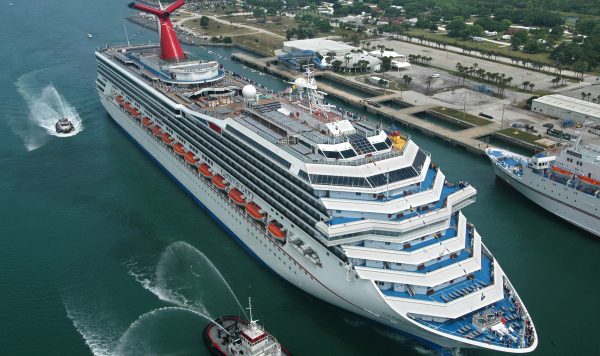 "Last night we experienced some major motion on the boat so this morning we assumed something similar was happening," Maddison Haynes told CNN. "We felt a jolt and didn't really think anything of it."
Haynes added that Carnival made an announcement after the incident and said high winds were a factor.
Video footage of the incident was posted to social media.
The news comes on the same day as Carnival forecast 2020 profits largely above analysts' expectations and reported better-than-expected quarterly earnings, driven by strong demand for its Caribbean cruises, sending its shares up about 9 percent. The company expects adjusted profit between $4.30 and $4.60 per share for its financial year ending 2020, the mid-point of which is above the average analyst estimate of $4.39, according to IBES data from Refinitiv.
Carnival is benefiting from growing demand for luxury travel experience, particularly for Caribbean cruises that constitute more than 30 percent of the company's itinerary.
"The Caribbean remains strong in occupancy and yield growth overall for our brands," said Chief Executive Officer Arnold Donald on a post-earnings conference call.
Reuters contributed to this report.
---
IMPORTANT DISCLAIMER: The political opinions that are expressed in the re-published articles from other information media are not necessarily shared by the editors of ReporteroCubano.Net. | Visit the source for more information