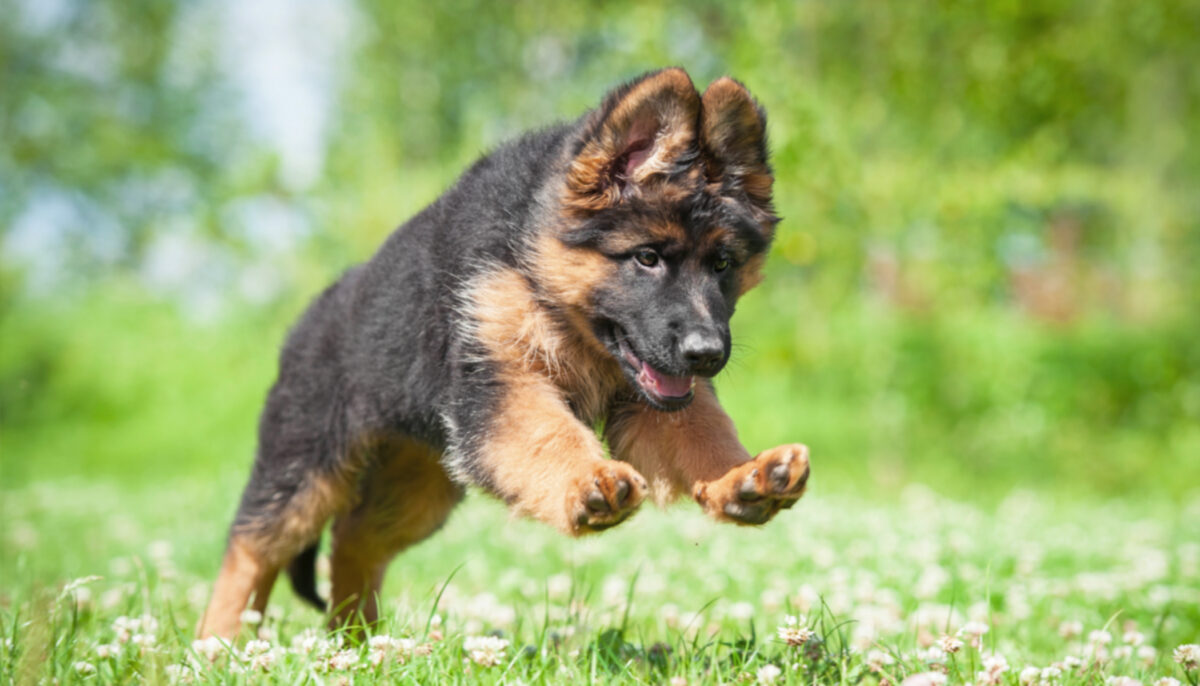 Ranger, a purebred American Kennel Club German shepherd, looks like a puppy despite being 2 years old already. A journey through a series of troubling health conditions ended in a surprising diagnosis; due to a rare genetic condition, this dog will look like a puppy for the rest of his life.
Ranger, who lives in Phoenix, Arizona, with his human mom Shelby Mayo, has pituitary dwarfism. Mayo told the South Wales News Service, as quoted by the Daily Mail, that she knew Ranger was the runt of the litter, but she wasn't expecting him to remain so tiny forever.
"When we originally got Ranger from the breeder, he was smaller than all his other litter mates, but we figured that was because he had a parasite called coccidia," Mayo explained.
Mayo fell in love with Ranger and took him home despite the parasites; however, it wasn't long before further health conditions surfaced. Mayo's vet discovered that Ranger also had giardia and an infection on his neck; the vet connected the dots and ventured that Ranger may have an underlying condition.
"During this time Ranger remained very small," Mayo said. "The vet had suspected that he may have pituitary dwarfism, a genetic mutation. But we were still skeptical as this condition is very rare."
Ranger's provisional diagnosis of perpetual puppyhood may have sounded adorable to many, but it brought with it a plethora of additional symptoms. "After a few more months we got him neutered and that's when we started to see big changes," Mayo explained. "He lost his appetite, started to lose weight, lost almost all of his fur, and had extremely dry and flaky skin."
These were yet more indicators that the vet had been right; skin and fur abnormalities are common among dogs with pituitary dwarfism.
According to Fox News, one of Ranger's nearly 70,000 followers on Instagram, who also has a German shepherd with dwarfism, advised Mayo that Ranger may be suffering from low thyroid levels. "[O]ur vet checked his thyroid levels and sure enough he was low," Mayo explained. "This can cause hair loss and a loss of appetite."
Medication, plus a special soap for Ranger's skin and fur, alleviated the symptoms. "His fur grew back and the dryness went away," Mayo said. "One of our followers, 'Guardians Farm,' are a small company that makes handmade soaps, [and] lotions, and they sent us goat milk soap which ended up helping Ranger's skin immensely.
"Over time," Mayo added, "Ranger still did not get much bigger, and at this point we are certain he does have this condition."
Ranger's litter was the first litter to come from the AKC dog breeder's pairing of two specific dogs. The breeder has since assured Mayo that they will not breed these two dogs together again, believing that this pairing was responsible for Ranger's genetic defect.
With a lot of love and a little help from his legion of fans, however, Ranger got both the treatment and the diagnosis that he needed. The pup, now "healthy and happy," is not letting his condition hold him back.
Ranger is even enjoying internet stardom on his very own Instagram page. The pup has 112,000 followers, and counting. According to WBTV, Mayo is hoping that Ranger's internet fame will help spread awareness of pituitary dwarfism in dogs.
"So many people have given us great advice and shared their stories, which is amazing, and we just hope to raise more awareness on pituitary dwarfs," Mayo said. "We also do not condone the purposeful breeding of these dogs for the result of a small dog; this is a genetic condition that can have serious health effects."
As of November 2019, Mayo reassured her followers that Ranger is doing well. "He is healthy and happy as can be as of now, and loves jumping around and playing with his ball and squeaky toys," she said.
Ranger adores playing with his sisters, Hazel the Labrador and fellow German shepherd Jessie, Mayo said. The pint-sized pup is living his best life.
---
IMPORTANT DISCLAIMER: The political opinions that are expressed in the re-published articles from other information media are not necessarily shared by the editors of ReporteroCubano.Net. | Visit the source for more information