Australia's prime minister defended his government's climate policy on Dec. 23, as authorities warned that the wildfires ravaging the country's most populous state could burn for months.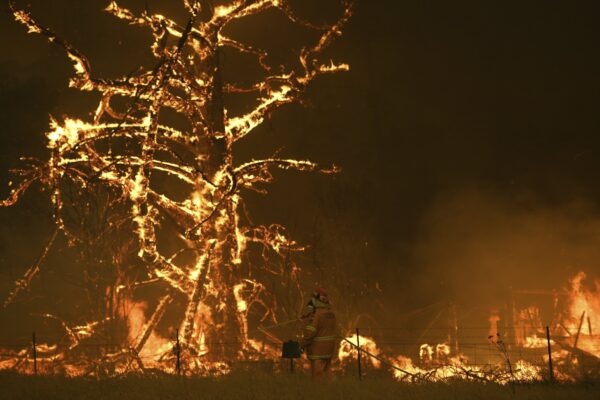 Responding to criticism that his government has not taken enough action on climate change, Morrison rejected calls to downsize Australia's coal industry. Australia is the world's largest exporter of coal and liquefied natural gas.
"I am not going to write off the jobs of thousands of Australians by walking away from traditional industries," he told Channel Seven.
His comments come as 200 wildfires were burning in four states across the country, with the state New South Wales (NSW) accounting for more than half of them, including 60 fires not contained.
National newspaper The Australian reported that more than a dozen suspected arsonists in NSW are set to be charged for having allegedly lit a number of the bushfires.
"There are a number of fires so far this season that have been lit with malicious intent," NSW Rural Fire Service Inspector Ben Shepherd told The Australian. He added that arsonists can face up to 25 years imprisonment for manslaughter.
"This kind of activity is dangerous and stupid … and the real issue is the severity fo the risk when the environment is so dry and windy, and conducive to fires spreading extraordinarily quickly," he told the newspaper.
At least 56 people have already been charged or cautioned with 71 bushfire-related offenses since August, with 16 ongoing investigations into suspicious fires, The Australian reported.
NSW is in a seven-day state of emergency. The fires have claimed at least six lives and more than 870 homes. Around 2,000 firefighters are battling the wildfires, among them are 69 Canadians who have given up their holidays at home to join the battle.
Two firefighters died Thursday battling blazes southwest of Sydney. Geoffrey Keaton, 32, and Andrew O'Dwyer, 36, were in a truck convoy southwest of Sydney when a tree fell and caused their vehicle to roll off the road.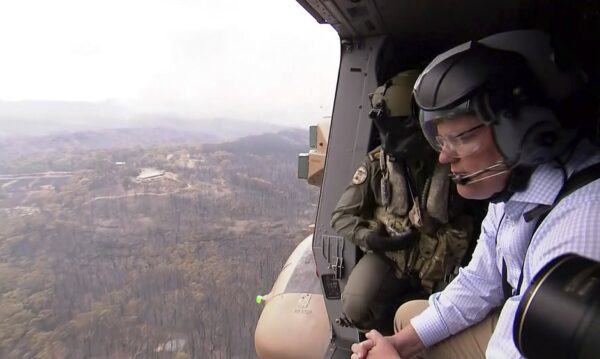 Morrison visited evacuation and emergency control centers and the families of the two firefighters killed battling blazes on Thursday. Later on Monday, Morrison took an aerial tour of the bushland where the Gospers Mountain mega-fire destroyed dozens of homes and around 484,000 hectares (1.19 million acres) northwest of Sydney.
Areas south of Sydney remain worst affected, with an emergency warning currently in place for Shoalhaven, while a fire at Grose Valley in the Blue Mountains, a popular tourist destination, is currently at the watch and act level.
Meanwhile, in South Australia, authorities confirmed Saturday that one person died and 15 homes were destroyed as a wildfire ravaged the Adelaide Hills on Friday, just 40 kilometers (25 miles) from the state capital of Adelaide. Another person was critically injured after fighting to save his home from the fires.
That follows the death of a 24-year-old man in a road crash in South Australia on Friday, which sparked a fire in the area of the Murraylands.
Morrison on Tuesday toured the Adelaide Hills fire ground. His visit comes as the South Australian government establishes an emergency relief fund to help people directly affected by the fire.
Morrison's coalition government won a surprise third term in May. Among its pledges was to reduce greenhouse gas emissions by 26 percent to 28 percent by 2030—a conservative figure relative to the center-left opposition's radical goal of 45 percent.
Morrison insisted Australia would meet its emission targets.
"I'm going to maintain the course of responsible management, responsibly addressing the changes of climate change and responsibly ensuring that we can grow our economy in what is a very tough climate at the moment," he said, reported the Associated Press.
The Associated Press contributed to this report.
---
IMPORTANT DISCLAIMER: The political opinions that are expressed in the re-published articles from other information media are not necessarily shared by the editors of ReporteroCubano.Net. | Visit the source for more information