Forensics officials in the western Mexican state of Jalisco said that 26 bags containing body parts were found in a ravine, and officials are now trying to determine how many victims died.
The Jalisco state prosecutor's office said in a statement on Thursday that authorities began to collect the bags Tuesday in the municipality of Tonala near Guadalajara.
"During the first day, they managed to extract 14 bags," the office wrote in the statement, according to a translation. It added that the rough terrain forced officials to suspend their work.
On Wednesday, about 12 more bags were located, the state prosecutor's office wrote.
"The remains were transferred to the facilities of the institute of forensic sciences where they will be analyzed" to determine the number of bodies and the causes of death, the office said.
A homicide investigation unit was deployed and is now working on the case to identify any potential suspects, the office said.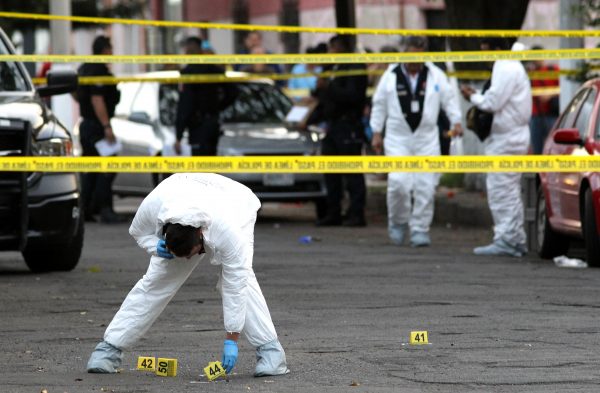 Officials have not suggested who might have been responsible. Mexican cartels have dumped large numbers of dead bodies in remote areas in Jalisco state in recent months.
In September 2019, at least 44 bodies were found dumped in bags near Guadalajara, officials said.
The remains were discovered on Sept. 3 in a well near the city of Guadalajara in Jalisco State after residents reported a foul odor, reported the BBC.
"It saddens me to speak in this way, but society has a right to know what is happening," Jalisco security cabinet chief Macedonio Tamez Guajardo told Mexican news website Milenio.
Elaborating on the grisly discovery, Guajardo said the bodies were in various states of decomposition. The Jalisco Institute of Forensic Sciences said on Sept. 14 that 44 people have been identified, Fox News reported.
Jalisco has experienced increased violence and disappearances in recent years as the Jalisco New Generation cartel has grown in strength.
In October 2019, 42 bodies were found in a mass grave near the U.S.-Mexico border.
A group of Mexican mothers with the group Madres Buscadoras de Sonora, or Searching Mothers of Sonora, found the grave near the town of Puerto Penasco, reported the Arizona Republic. The Sonora Attorney General's Office said the women were searching for remains of missing family members and discovered the grave in a desert area near a state highway east of the town, the paper reported.
---
IMPORTANT DISCLAIMER: The political opinions that are expressed in the re-published articles from other information media are not necessarily shared by the editors of ReporteroCubano.Net. | Visit the source for more information