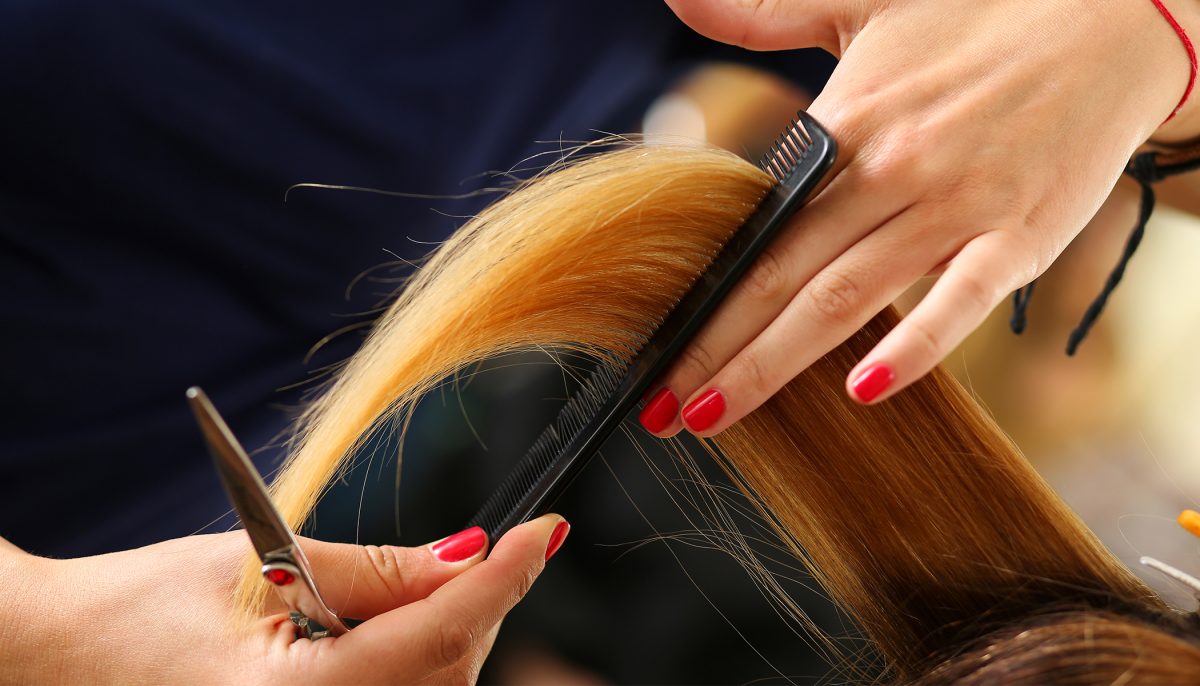 For years, Holly Garrido refused to cut her long hair. Her father had once told her that women must have long hair in order to be pretty, and Holly was hooked; her long locks became her self-assurance.
That is until she got engaged.
Holly's partner, Vashon Ridgeway, had proposed. Holly said yes, but she knew in her heart that she wouldn't feel beautiful on her wedding day. There was one huge problem looming over Holly's special day; she was (almost literally) consumed by her hair.
Holly, a gate guard at a plantation in Destin, Florida, decided it was high time she relinquished her hip-length hair to the hands of the experts. She went to see the talented hairstylists at Avant Garde Salon.
— Holly Garrido (@Holly_Garrido) November 26, 2013
When Holly arrived, the stylists could barely contain their shock. Their client's heap of hair hung low around her hips and was ruined by the remnants of hair-dyeing experiments. The stylists told Holly, in no uncertain terms, that this makeover would be epic.
Stylist and hair colorist Sara Helfand-Pestella told Modern Salon that Holly had a hard time letting go. "She always felt like she needed to keep her hair long because of what her dad said," Helfand-Pestella shared.
"We disagreed."
Years of rough treatment and no trimming had left Holly's hair significantly damaged, "out of control, and extremely dry," said Kiwi Report. It was senior stylist Jeremy Hartfield's job to deliver the salon's verdict; Holly had to bid farewell to at least 2 feet of hair.
Hartfield, to his delight, brandished the scissors. After the dramatic hair-culling, Helfand-Pestella dyed Holly's hair a beautiful bright blonde and added some dimension in a darker brown at the roots.
After drying the hair, the stylist then gave Holly's hair some eye-catching, beachy waves for volume, and the salon's mission was accomplished. Holly had been totally transformed!
The makeover, from start to finish, took a jaw-dropping seven hours. "No kidding, this transformation was indeed overnight," Helfand-Pestella told Allure, having worked with Holly from 7 p.m. to 2 a.m. the next morning. But it was worth every second. "Holly feels beautiful in her own skin [now]," the stylist said, triumphantly.
Hartfield shared Holly's epic hair journey on Instagram, and the amazing "before" and "after" photos quickly went viral.
In April of 2019, Helfand-Pestella shared an update with Modern Salon. "After this change, [Holly] quit her job as a gate guard and ended up working with us as a receptionist at the salon," she said. "Another co-worker colored her hair purple over the blonde."
"She still has purple hair," Helfand-Pestella continued. "[She] ended up quitting the salon job and going back to her old job as a gate guard […] but she is happy and that is what matters!"
According to the Kiwi Report, the Avant Garde Salon was nominated for the 2017 OneShot Hair Awards, and how did they respond? By inviting their biggest success story, Holly, onto the award-show catwalk to debut her new look! For her epic handiwork, Helfand-Pestella even won the "Transformation Shot of the Year" award.
Holly took the plunge, changed the habit of a lifetime, and changed her life for the better. What do you think of her gasp-inducing makeover?
---
IMPORTANT DISCLAIMER: The political opinions that are expressed in the re-published articles from other information media are not necessarily shared by the editors of ReporteroCubano.Net. | Visit the source for more information