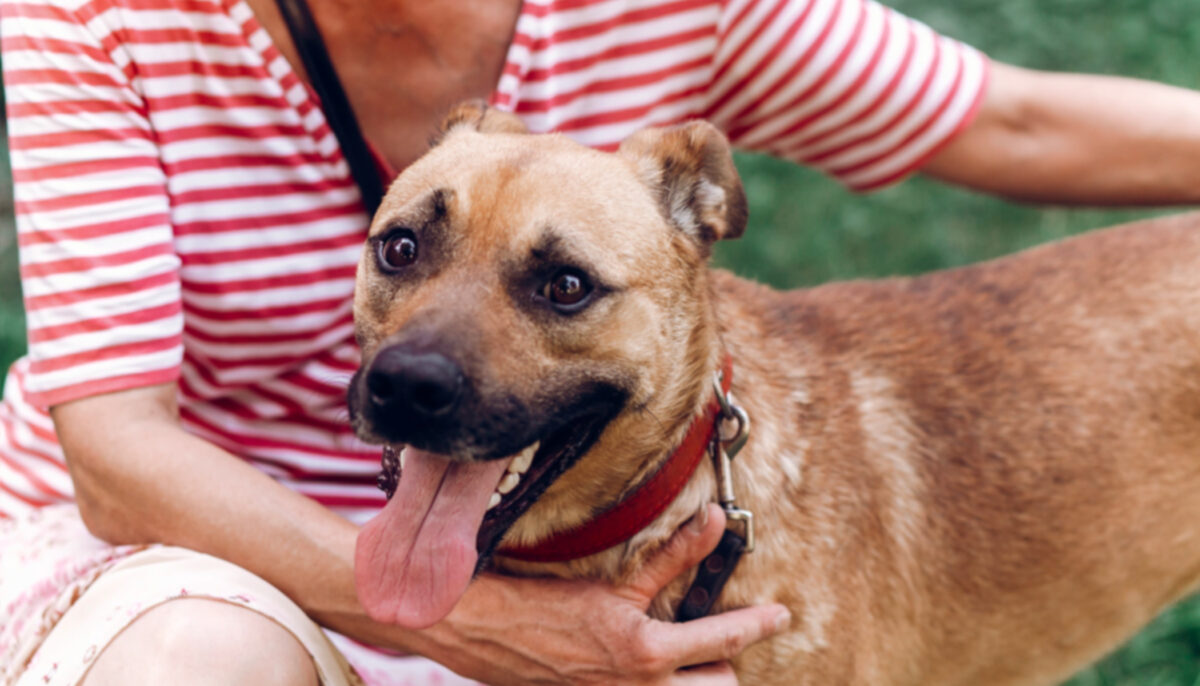 Beth Cochran said it was love at first sight.
"I saw this gray-faced, skinny dog and I said to my husband, 'We're getting him,'" Beth told Today, recalling how a visit to Anne Arundel County Animal Care & Control in Maryland to drop off donations turned into an impromptu adoption.
Beth and her husband, Michael, took 17-year-old Rocky home that very same day in late 2015, fully prepared to offer him all the love and care he needed in the time he had left. "I was not about to leave that old man to die in a cage," Beth said.
Soon after adopting Rocky, Beth and Michael learned that they were expecting a baby; Rocky became a source of comfort and support to the mom-to-be.
"Rocky didn't really notice until I started showing," Beth recalled, "but he was so gentle with me and he adjusted really well with all the baby stuff coming in. When I wasn't feeling good, he was always near."
Beth and Michael made their pregnancy announcement by posting a photo on Facebook in which Rocky took center stage. "Mom and Dad are getting me a human!" read the sign above the senior pup's head.
As Beth grew closer and closer to her due date, so the couple grew closer to their elderly pet. "Rocky made our life very complete," Beth said. "He loved dancing with us and being near us."
But as time progressed, so did Rocky's struggle with mobility; before long, Michael took to carrying Rocky up the stairs to share the couple's bed each night. "Instead of walks," Beth explained, "we just sat outside in the sun together."
When Beth reached her seventh month of pregnancy, Rocky's health began to fail. The Cochrans refused hospitalization in favor of taking Rocky home to the house and family he loved.
The day that Beth returned from the hospital after giving birth to the couple's baby girl, Hazel, she recalled Rocky falling into a swift decline. It seemed that the elderly dog had been holding on for something special.
"He sniffed [Hazel] and placed his head near her," Beth said. "It was beautiful and I cried." Rocky passed away peacefully, surrounded by his family, just hours later.
"We loved him more than words can describe and we still have a very hard time adjusting to him not being here," Beth shared. The couple was "broken," Beth admitted to ABC News, but remained eternally grateful that Rocky had managed to meet their baby daughter.
Friends of Anne Arundel County Animal Care & Control were so moved by Rocky's friendship with the Cochrans that they took to Facebook to pay tribute. What followed was a moving letter to baby Hazel about the sweet, senior dog that waited for her. They wrote:
"Dear Hazel, Someday your mom and dad will tell you all about your first dog, Rocky […] late Thursday night he peacefully left the world that you just entered.

"Before that happened, your sad mom and dad took a picture of the two of you together. Someday, they will show you that picture, and tell you how wonderful and how loved your first dog was, even though your lives only overlapped so very briefly."
Robin Catlett, an administrator at the shelter, reflected that it must take a "special family" to open their home and hearts to an animal with very few years, maybe only months, left to live.
"Rocky was so frail and sad when he arrived at the shelter," Catlett told Today, "but under their care he blossomed and seemed truly happy."
"Senior dogs are amazing dogs," Beth added, "they may need a little help, but they will love you so much."
---
IMPORTANT DISCLAIMER: The political opinions that are expressed in the re-published articles from other information media are not necessarily shared by the editors of ReporteroCubano.Net. | Visit the source for more information