The family of retired FBI agent Robert Levinson said on Wednesday that U.S. officials have concluded that Levinson has likely died while in the custody of Iran.
In a statement, Levinson's family said that it had no information about how or when the former FBI agent died, but that it happened before the COVID-19 outbreak. The family said that U.S. officials had received information that led the officials to determine that Levinson is likely dead.
White House national security adviser Robert O'Brien said in a statement on Wednesday: "While the investigation is ongoing, we believe that Bob Levinson may have passed away some time ago."
"Iran must provide a complete accounting of what occurred with Bob Levinson before the United States can fully accept what happened in this case," he added.
President Donald Trump said that while he had not been told that Levinson was dead, things did not look good given Levinson's deteriorating health.
"It's not looking promising … we feel terribly for the family," Trump said.
"It's not looking great, but I won't accept that he's dead. They haven't told us that he's dead, but a lot of people are thinking that that's the case."
Statement from the Levinson Family pic.twitter.com/0t3YLvGJIc

— Help Bob Levinson (@HelpBobLevinson) March 25, 2020
"It is impossible to describe our pain," the family's statement read. "Our family will spend the rest of our lives without the most amazing man, a new reality that is inconceivable to us. His grandchildren will never meet him. They will know him only through the stories we tell them."
"If not for the cruel, heartless actions of the Iranian regime, Robert Levinson would be alive and home with us today," the family said in their statement, noting that they have spent "13 years waiting for answers."
"Thirteen years since we last saw him or had any contact with him. How those responsible in Iran could do this to a human being, while repeatedly lying to the world all this time, is incomprehensible to us. They kidnapped a foreign citizen and denied him any basic human rights, and his blood is on their hands," Levinson's family said.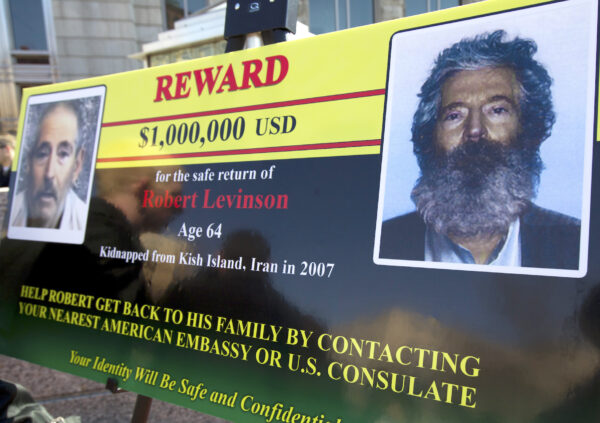 Levinson disappeared from Iran's Kish Island on March 9, 2007, after meeting a source, Daoud Salahuddin, an American Islamic militant who fled to Iran while facing charges in the murder of an Iranian embassy official based in Washington.
U.S. officials say that Levinson was working independently as a private investigator, seeking information on alleged corruption involving former Iranian president Akbar Hashemi Rafsanjani and his family, said sources familiar with his work.
The family received proof-of-life photos and a video in late 2010 and early 2011, but Levinson's whereabouts and fate were not known.
A 2013, an Associated Press investigation revealed that Levinson had been sent on a mission by CIA analysts who had no authority to run such an operation. They were later forced out of the agency and several more were disciplined after an internal agency investigation.
"Those who are responsible for what happened to Bob Levinson, including those in the U.S. government who for many years repeatedly left him behind, will ultimately receive justice for what they have done," the family statement said.
The family thanked Trump and his administration in their statement, saying that they "have done all they could to make our family whole again. We are so grateful for their efforts."
The Trump administration on Nov. 4, 2019, offered a reward of up to $20 million for information about Levinson. This, combined with a $5 million reward that the FBI already had on offer, made a total of $25 million. At the time, Trump called for Iran to turn over Levinson, whom he said was "kidnapped."
Later in November 2019, Iran responded to a United Nations query by saying that Levinson "has an ongoing case in the Public Prosecution and Revolutionary Court of Tehran." Iran later clarified that the case was an investigation into his disappearance and not that Levinson was being prosecuted.
Trump said on Twitter on Nov. 10: "If Iran is able to turn over to the U.S. kidnapped former FBI Agent Robert A. Levinson, who has been missing in Iran for 12 years, it would be a very positive step."
"At the same time, upon information & belief, Iran is, & has been, enriching uranium. That would be a very bad step!" he added.
Levinson's family's latest announcement comes just weeks after a federal judge in Washington held Iran liable for his disappearance, saying the country was "in no uncertain terms" responsible for Levinson's "hostage-taking and torture."
The Associated Press and Reuters contributed to this report.
Follow Mimi on Twitter: @MimiNguyenLy
---
IMPORTANT DISCLAIMER: The political opinions that are expressed in the re-published articles from other information media are not necessarily shared by the editors of ReporteroCubano.Net. | Visit the source for more information