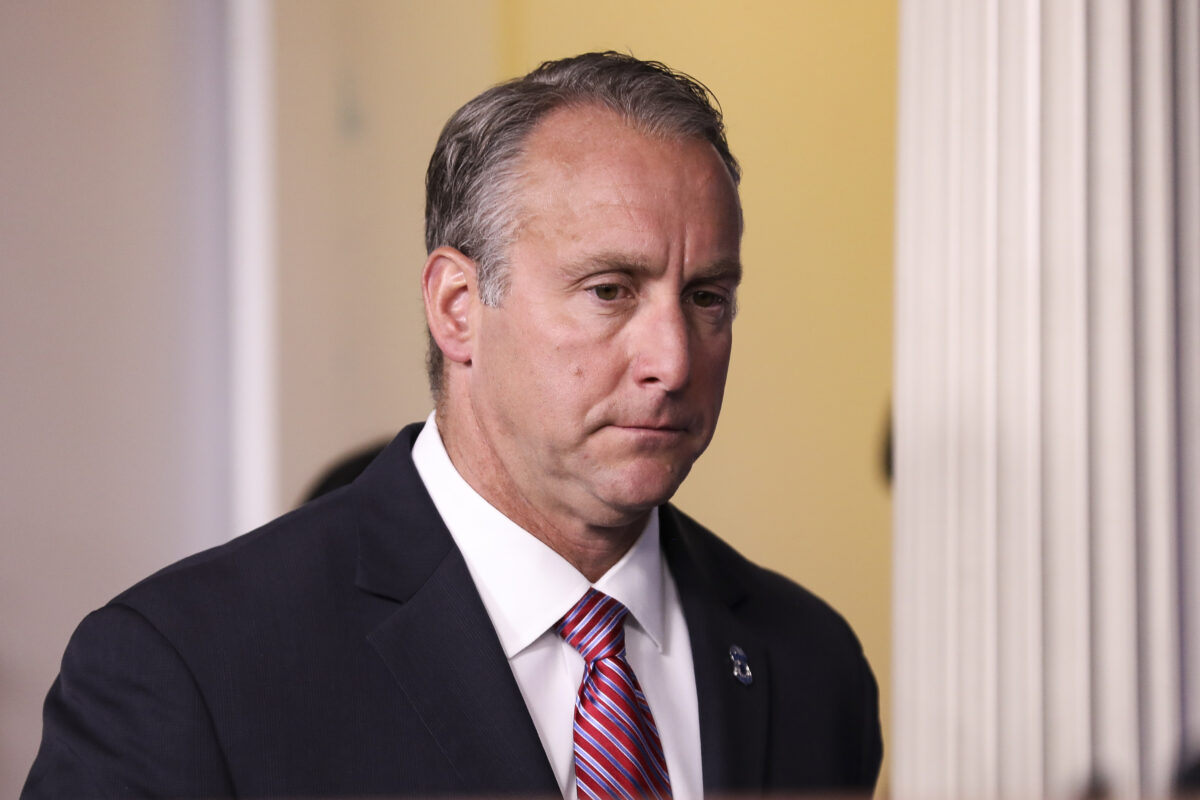 Federal, state, and local law enforcement officials called on New York legislators to amend the state's Green Light Law on Feb. 20, at times having to raise their voices over raucous protests against federal immigration authorities.
The law, which allows illegal immigrants to obtain driver's licenses, also withholds all New York state DMV data from Immigration and Customs Enforcement (ICE) and Customs and Border Protection (CBP).
Acting ICE Director Matthew Albence hosted a press conference alongside more than 30 federal and local law enforcement officials in Troy, New York, on Feb. 20.
Albence said ICE runs about 5,000 checks through DMV databases nationally every week during normal operations, including to obtain driver's license information, vehicle registration information, photographs, and other information.
But now the agency is unable to run any of those checks in New York.
Using DMV data is "absolutely one of the building blocks to any investigation and in trying to identify somebody," Albence said.
Agents run license plates through the DMV database during traffic stops to identify if a driver is a wanted criminal, or if the plate belongs to the vehicle it's affixed to, or if the vehicle is stolen.
DMV information from a driver's license and address helps law enforcement in their investigations, often in obtaining a search warrant, Albence said.
"Seventy percent of the joint terrorism task force disruptions stem from arrests for immigration violations," he said. "Yet the agency responsible for those arrests is now frozen out of the New York DMV databases. This is a pre-9/11 mentality in a post-9/11 world."
Albence said that just the night before, he was made aware of a case in which his agents had arrested a man who was live-streaming himself sexually assaulting his own 18-month-old child.
"We made that arrest in a matter of hours of receiving that information. And I guarantee you, the information that we got that was crucial in identifying this individual and where they lived came through a state DMV database. And thankfully it wasn't in New York, or that child would still be being sexually assaulted as we speak," Albence said.
Steve McLaughlin, county executive for New York's Rensselaer County, served as a state assemblyman from 2011 through 2017. He said most of the state legislators probably didn't read the Green Light Law before passing it, "and are only now starting to read it and realize what a mistake they made."
New York Gov. Andrew Cuomo, who met with President Donald Trump at the White House on Feb. 13, has defended the law. He accused the Trump administration of retaliation when CBP stopped all New York applications for its Trusted Traveler programs, saying it could not adequately vet people without DMV data.
Cuomo has since said he was willing to compromise and allow federal immigration authorities partial access to DMV data on a case-by-case basis to conduct a background check on Trusted Traveler applicants.
But McLaughlin said any concessions without a full repeal of the data ban provision is "ridiculous."
"As bad as this law is, it passed both houses and he signed it into law," McLaughlin said. "Unless the governor can do this through the executive order—which I highly doubt—this would have to go all the way back through the legislature, which is why I called on the legislature to get involved here rapidly and make the amendments to this bill."
Albence said that in fiscal 2019, ICE arrested about 123,000 individuals with criminal convictions or pending charges, making up half a million crimes.
"So the individuals we arrest are known, recidivist criminals," he said. "If we can't get these criminals off the street, they're going to go back out into communities and reoffend."
He said by regaining access to the DMV database, ICE isn't asking New York to provide a list of illegal aliens or to identify which individuals in its databases are here illegally.
Follow Charlotte on Twitter: @charlottecuthbo
---
IMPORTANT DISCLAIMER: The political opinions that are expressed in the re-published articles from other information media are not necessarily shared by the editors of ReporteroCubano.Net. | Visit the source for more information