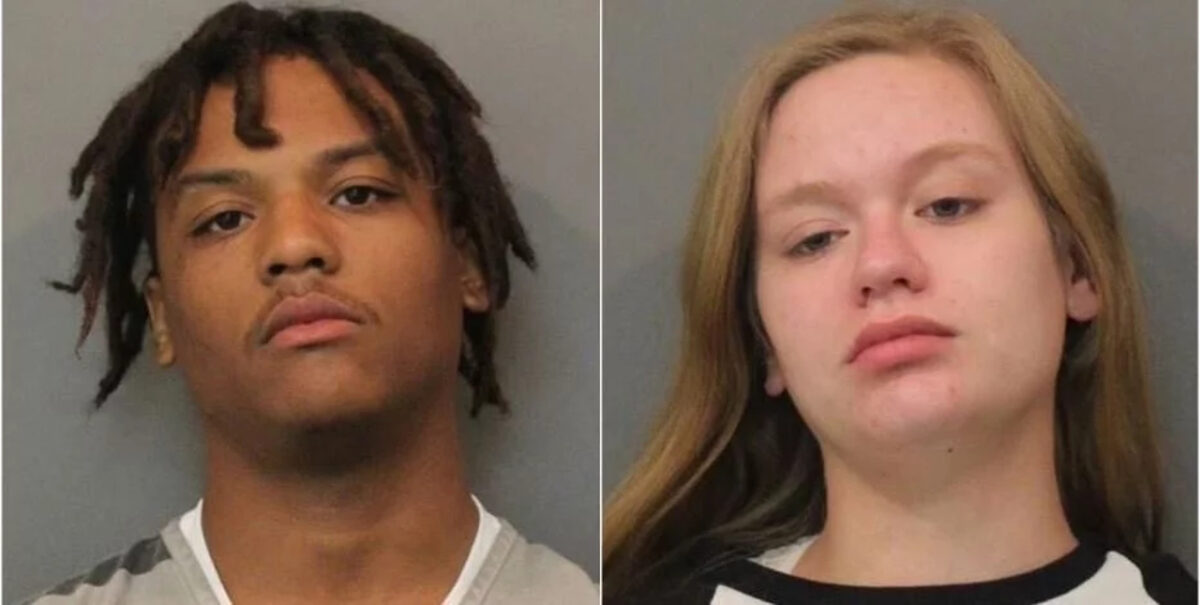 Two teenage twin brothers were allegedly driven off the road and assaulted by an adolescent couple who were not happy with the boys' support for President Trump.
The 14-year-old twins from Hobart, Indiana, were riding their bikes embellished with Trump 2020 campaign flags on July 22 last year when they were followed by a young Indiana couple in a blue Chevrolet Malibu, according to court records.
The charges could only be filed recently because the police had to wait for months to obtain clearance of the video footage from Instagram, the Northwest-Indiana reported.
According to an affidavit filed by Hobart Police and based on two Snapchat videos of the event, the Chevy was operated by 23-year old Kyren Gregory Perry-Jones—next to him, his 18-year-old girlfriend Cailyn Marie Smith. The videos were apparently shot by the perpetrators themselves in order to immortalize the event by uploading footage of it to Instagram.
Perry-Jones asked them whether they were Trump supporters. The lads contended they were. The video then shows how Perry-Jones forced the boys off the road with an abrupt lurch.
"HOBART, Ind.— Police say a northwestern Indiana couple allegedly drove two teenage boys off a roadway they were riding along with flags supporting President Donald Trump attached to their bicycles." https://t.co/rBugppNJOb

— Jake Tapper (@jaketapper) February 22, 2020
"Y'all better get home," Perry-Jones can allegedly be heard yelling while following the boys through a couple of yards. He then tells Smith, to "pull that flag down," upon Smith replies with, "Get closer."
"Y'all scared, just like your president,″ Smith can be heard yelling. "America is not great," she added, followed by an expletive, according to the affidavit.
When the boys came to a standstill, Perry-Jones tears one of the boys' flags down. He can furthermore be heard threatening the youths by saying they should not show up downtown, otherwise, he might beat them up.
Only after one of the boys threatens to call the police does the couple take off, but not before running over the seized flag with their car.
Perry-Jones and Smith were charged with two felony counts of intimidation and criminal recklessness and one count each of theft and criminal mischief, both of which are misdemeanors.
The incident caused quite a stir on social media. Conservative journalist Andy Ngo also shared his comment on Twitter.
Indiana: Kyren Gregory Perry-Jones & Cailyn Marie Smith have been arrested & charged for allegedly forcing two teens riding bicycles adorned with Trump flags off the road. Police say they swerved at the boys & then got out to tear off one of the flags. https://t.co/AMESSxkKpI pic.twitter.com/Nqbvn1bDc9

— Andy Ngo (@MrAndyNgo) February 21, 2020
"This is an unfortunate event that involved two brothers expressing their support for President Trump," Hobart Police Capt. James Gonzales said, the Northwest-Indiana reported. "Our residents in Hobart should be able to express their support for any political affiliation without fear of any adverse recourse. The Hobart Police Department will continue to serve the Hobart residents to ensure they are free to express their support for whomever they choose and we will tirelessly work to preserve their 1st Amendment Rights under the United States Constitution."
From NTD News
---
IMPORTANT DISCLAIMER: The political opinions that are expressed in the re-published articles from other information media are not necessarily shared by the editors of ReporteroCubano.Net. | Visit the source for more information