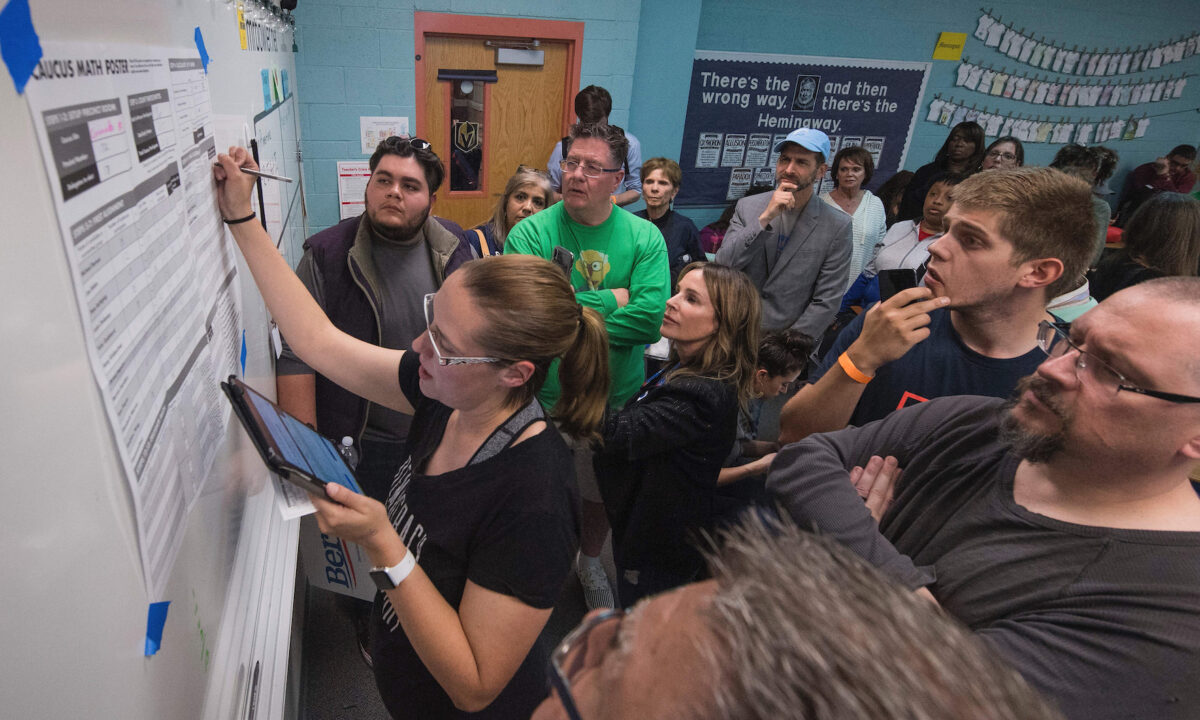 As voting continues across Nevada, very early results show Bernie Sanders (I-Vt.) taking the lead in the Nevada Democratic caucus.
Based on reporting from 65 of 2,097 precincts representing 3.1 percent of the votes, Sanders has won 2,529 votes, followed by former president Joe Biden on 772 votes and Elizabeth Warren (D-Mass.) on 507 votes.
Mayor of South Bend, Indiana, Pete Buttigieg, billionaire Tom Steyer, and Amy Klobuchar (D-Minn.) have received 572, 352, and 131 votes respectively.
Some Precincts Have Trouble Reporting
Two of the four caucus precincts at a middle school in the northern Nevada city of Gardnerville had trouble getting through on the phone hotline to report results.
Kimi Cole, the chair of the Douglas County Democrats who was the site lead at the school, said her precinct and another tried to call the hotline after their caucuses wrapped up early afternoon. But instead of being put on hold, they were met with a tone that seemed to indicate the number wasn't working.
"I dialed two or three times, couldn't get through. My friend dialed, couldn't get through," Cole said.
A third person at the caucus site was able to get through and report results right after, but Cole said she and the other precinct leader decided to use one of the Nevada Democratic Party's backup methods by texting a photo of their caucus reporting worksheets.
Cole said the data was also transmitted by the iPad calculator, which seemed to run smoothly for everyone at that site.
Tom Perez, chairman of Democratic National Committee, said earlier that the goal is to get the results fast and right.
"Our goal is to get results as soon as possible," he said. "But also, first and foremost, to get it right."
Trump Awarded 25 GOP Delegates
Nevada's Republican party has formally awarded all 25 of its delegates to President Donald Trump.
The state GOP had already canceled its caucuses, but the state committee voted by acclimation to give the Republican president all of its delegates as Democrats were tallying caucus votes, according to party executive director Will Sexauer.
This is a developing story, check back for more updates.
Allen Zhong and The Associated Press contributed to the report.
---
IMPORTANT DISCLAIMER: The political opinions that are expressed in the re-published articles from other information media are not necessarily shared by the editors of ReporteroCubano.Net. | Visit the source for more information