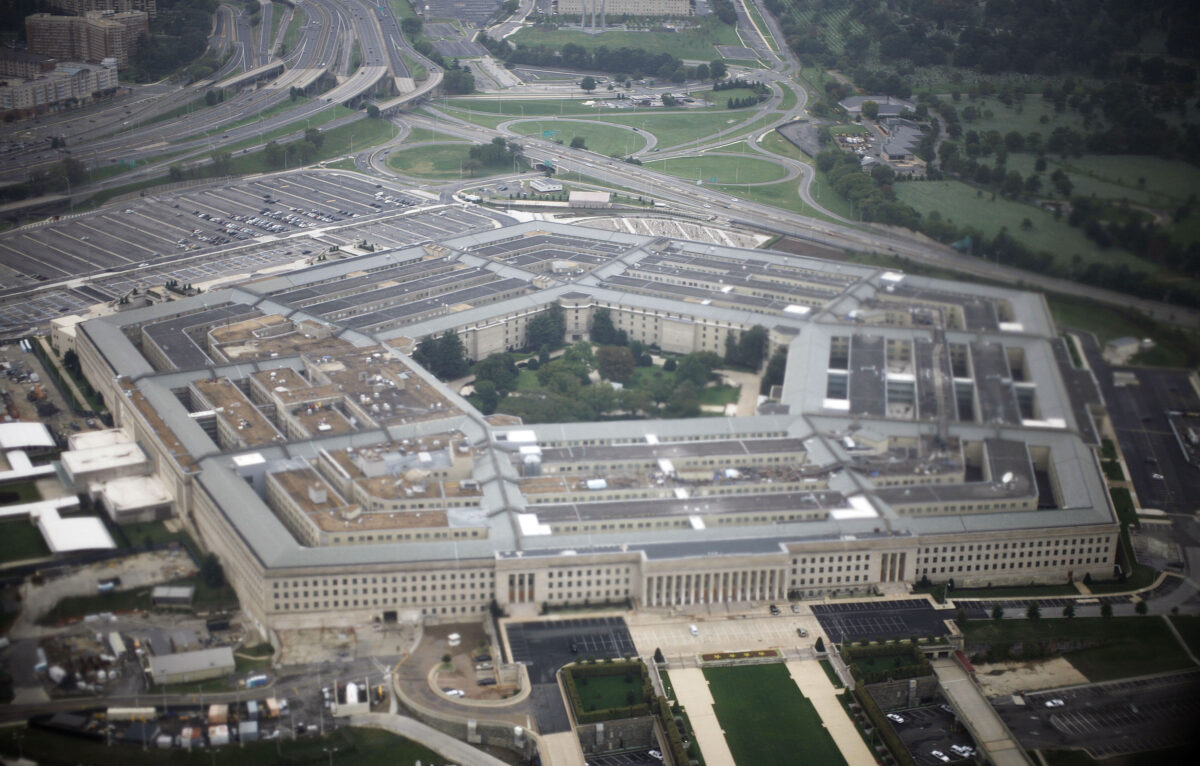 The death of Abu Bakr al-Baghdadi has had little impact on the terror group ISIS's operations in Iraq and Syria, according to a report from Defense Department Inspector General Glenn Fine published on Feb. 4.
The Defense Intelligence Agency (DIA) and U.S. Central Command (USCENTCOM) assessed that the death of the terror group's leader in northern Syria in October last year did not disrupt the group's command structure or operations and "did not result in any immediate degradation to ISIS's capabilities."
According to USCENTCOM, "following the death of ISIS leader Abu Bakr al-Baghdadi, the group's capabilities in Syria remained the same."
USCENTCOM said that ISIS had "likely implemented an existing succession plan upon Baghdadi's death, and continued to operate without interruption."
President Donald Trump announced in late October that the ISIS leader had been killed after U.S. special forces launched a nighttime raid on an ISIS-held compound, telling reporters that his demise "demonstrates America's relentless pursuit of terrorist leaders and our commitment to the enduring and total defeat of ISIS and other terrorist organizations."
However, less than a week after the attack on Oct. 31, the terror group announced a new leader, Abu Ibrahim al-Hashemi al-Qurayshi.
According to the report (pdf), Combined Joint Task Force–Operation Inherent Resolve (CJTF-OIR) told the Department of Defense Office of Inspector General (DoD OIG) in December that "despite al Baghdadi's death, ISIS in Iraq continued low-level attacks, mainly in Diyala and Kirkuk provinces, and did not appear either to grow stronger, or to lose its freedom of movement or ability to hide and transport fighters and supplies in Iraq's desert and mountainous terrain."
"CJTF-OIR said that ISIS in Iraq retains enough manpower and planning capabilities to conduct regular small-scale attacks against the ISF [Iraqi Security Forces], the PMF [Popular Mobilization Forces], or local civilians, and occasionally infiltrates urban centers, but has not tried to hold territory," according to the report.
The CJTF-OIR said that the number of ISIS-claimed attacks in Iraq had "decreased by roughly half during the first two months of the quarter compared to the first two months of the previous quarter, dropping to 67 from 138, and most were opportunistic attacks." But the DIA noted that the low number might not reflect all ISIS attacks because the Iraqi government shut down internet access during the quarter, which "drastically" affected the groups ability to publicize attacks.
CJTF-OIR reported that while ISIS in Iraq retained "some support due to ideology or tribal ties, the vast majority of Iraqis, including those in Sunni areas, remain hostile to it, which has limited its ability to recruit new members."
The report noted that despite ISIS's lack of popularity, the terror organisation has "maintained a robust propaganda operation, mainly online through Twitter, Facebook, and Telegram, an encrypted messaging application," which USCENTCOM said would make the group "resilient" and that a "long-term triumph is inevitable."
Turkey's Invasion of Syria
Elsewhere in the report, the DIA said that ISIS took advantage of Turkey's October 2019 invasion of northern Syria, and probably "increased its attacks in northeast Syria by at least 20 percent," judging by the group's online claims.
The DIA stated, "This suggests ISIS continues to view the security environment in northeast Syria as more conducive to its operations."
However, CJTF-OIR expressed a different viewpoint, saying that the ISIS-claimed attacks were "most likely propaganda," and that it was the CJTF-OIR's determination that the Turkish incursion did not result in any significant ISIS resurgence is based on "known facts."
Initially, President Donald Trump ordered a full withdrawal of the 1,000 U.S. troops in Syria helping Kurdish forces fight against ISIS. But as the situation progressed, roughly 500 U.S. troops were ordered to remain in Syria as part of that mission.
Focus on ISIS Interrupted By Escalations With Iran
An increase in threats to U.S. troops following the death of top Iranian general, Qassem Soleimani, on Jan. 3. in Baghdad's international Green Zone saw the U.S military announce a brief pause in operations against ISIS in Iraq.
However, despite the shift in focus from ISIS to force protection, the Fine said in the report that it was "unclear the extent to which the pause would either allow ISIS to regroup and resurge in Iraq or disrupt operations against ISIS conducted by Iraqi Security Forces (ISF)," who continued with countermeasures against the group.
Fine also said that while "Iranian-aligned militias and some demonstrators" continue calls for U.S. troops to leave, the Iraqi government resumed counter-ISIS operations together with U.S. troops two weeks later—although the ongoing debate surrounding the continued presence of U.S. troops has not been resolved.
The Defense Intelligence Agency (DIA) said that in its view, an absence of U.S. military in Iraq would "likely" lead to a resurgence of ISIS in the region.
The U.S. Government has "stated it has no intention of pulling troops out of Iraq," Fine said.
---
IMPORTANT DISCLAIMER: The political opinions that are expressed in the re-published articles from other information media are not necessarily shared by the editors of ReporteroCubano.Net. | Visit the source for more information