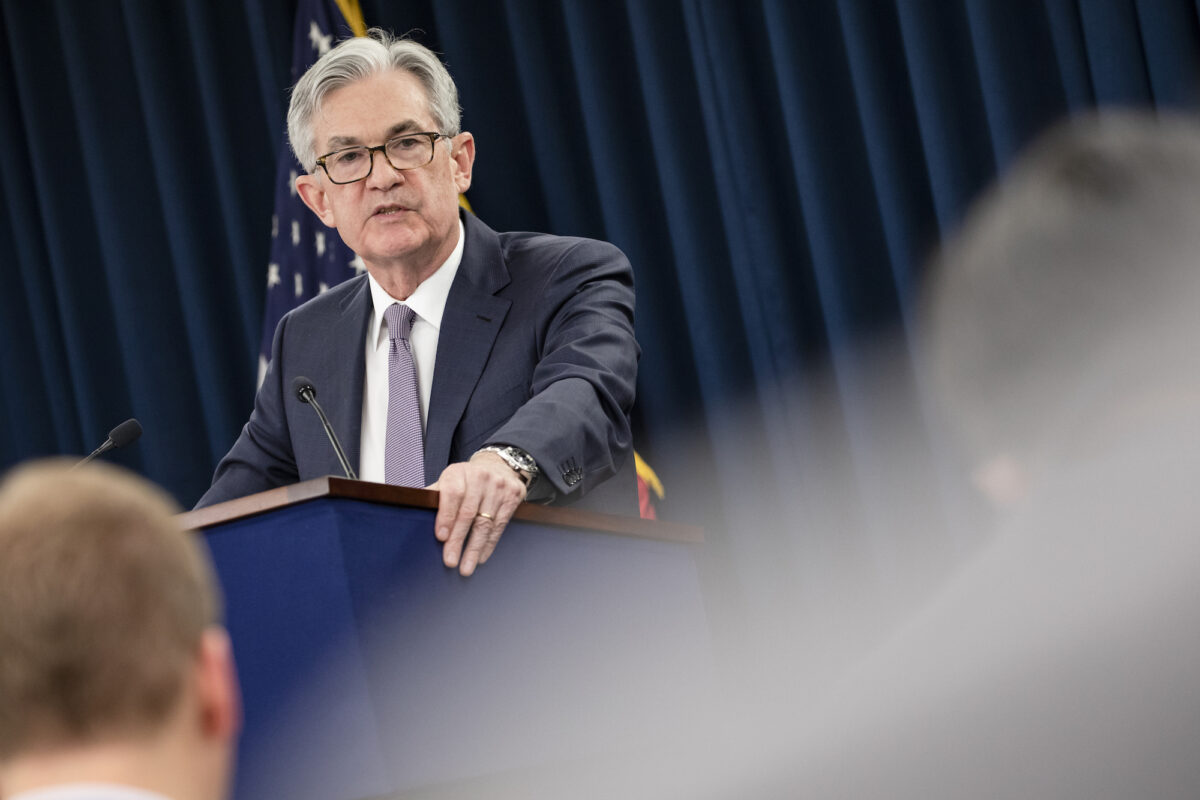 Federal Reserve Chairman Jerome Powell said Thursday that the U.S. economy may well be in recession due the COVID-19 outbreak, but insisted the central bank still has tools to give the economy its best chance for a "vigorous" rebound.
Speaking in a rare television interview on March 26, Powell told NBC's "Today" that while the economy was likely in contraction and that he further expected economic activity to decline "pretty substantially" in the second quarter, the lack of underlying economic fragility means a quick recovery is possible.
"I would point to the difference between this and a normal recession," Powell said. "There is nothing fundamentally wrong with our economy. Quite the contrary. We are starting from a very strong position," he said.
Businesses across the nation have suddenly been forced to shutter amid lockdowns and other measures to prevent the spread of the virus.
"This is a unique situation. It's not like a typical downturn," Powell said. "We've asked people to step back from economic activity really to make an investment in our public health."
The Epoch Times refers to the novel coronavirus, which causes the disease COVID-19, as the CCP virus because the Chinese Communist Party's coverup and mismanagement allowed the virus to spread throughout China before it was transmitted worldwide.
"This is a situation where people are being asked to step back from economic activity, close their businesses, stay home from work," Powell said. "So, in principle, if we get the virus spread under control fairly quickly, then economic activity can resume and we want to make that rebound as vigorous as possible."
'Not Going to Run Out of Ammunition'
Powell said the Fed will "aggressively" use its emergency lending authority to supply credit to businesses of all sizes to help the U.S. economy pick up quickly when the pandemic gives way.
"When it comes to lending, we're not going to run out of ammunition. That doesn't happen," Powell said after being asked whether the Fed was running out of tools, with rates at near-zero and a massive asset-buying program dubbed "Infinity QE."
The Fed Chair said that the way the virus response unfolds will inform decisions to deploy crisis-management and economic stimulus tools.
"The virus is going to dictate the timetable here," Powell said. "The first order of business will be to get the spread of the virus under control, and then resume economic activity."
He added it was the Fed's job to make sure businesses get a "bridge" of support to carry them over a rough patch, which he believes is temporary. Timely and adequate support to businesses will let the economy rebound more decisively down the road, he said.
"Where credit is not flowing, we have the ability in this unique circumstance to temporarily step in and provide those loans, and we will keep doing that aggressively and forthrightly as we have been," Powell said.
According to data released on Thursday, the Fed's balance sheet rocketed past $5 trillion in assets for the first time this week as it scooped up bonds and extended loans to banks, mutual funds, and other central banks in its unprecedented effort to backstop the economy amid the pandemic.
The Fed's balance sheet this week expanded at roughly twice the pace of the next-largest weekly expansion in the financial crisis in October 2008.
As of Wednesday, the Fed's stash of assets totaled $5.3 trillion.
The U.S. coronavirus death toll has topped 1,000, while the pandemic's mounting economic burden was illustrated by government data on Thursday showing a record number of Americans seeking unemployment benefits and hospitals struggled to treat a surge of infected patients.
For most people, COVID-19 causes mild or moderate symptoms, such as fever and cough that clear up in two to three weeks. For some, especially the elderly and people with pre-existing health problems, it can cause more severe illness, including pneumonia, or death.
The virus is thought to spread mainly from person-to-person, typically between people who are in close contact with one another and via respiratory droplets produced when an infected person coughs or sneezes.
Follow Tom on Twitter: @OZImekTOM
---
IMPORTANT DISCLAIMER: The political opinions that are expressed in the re-published articles from other information media are not necessarily shared by the editors of ReporteroCubano.Net. | Visit the source for more information