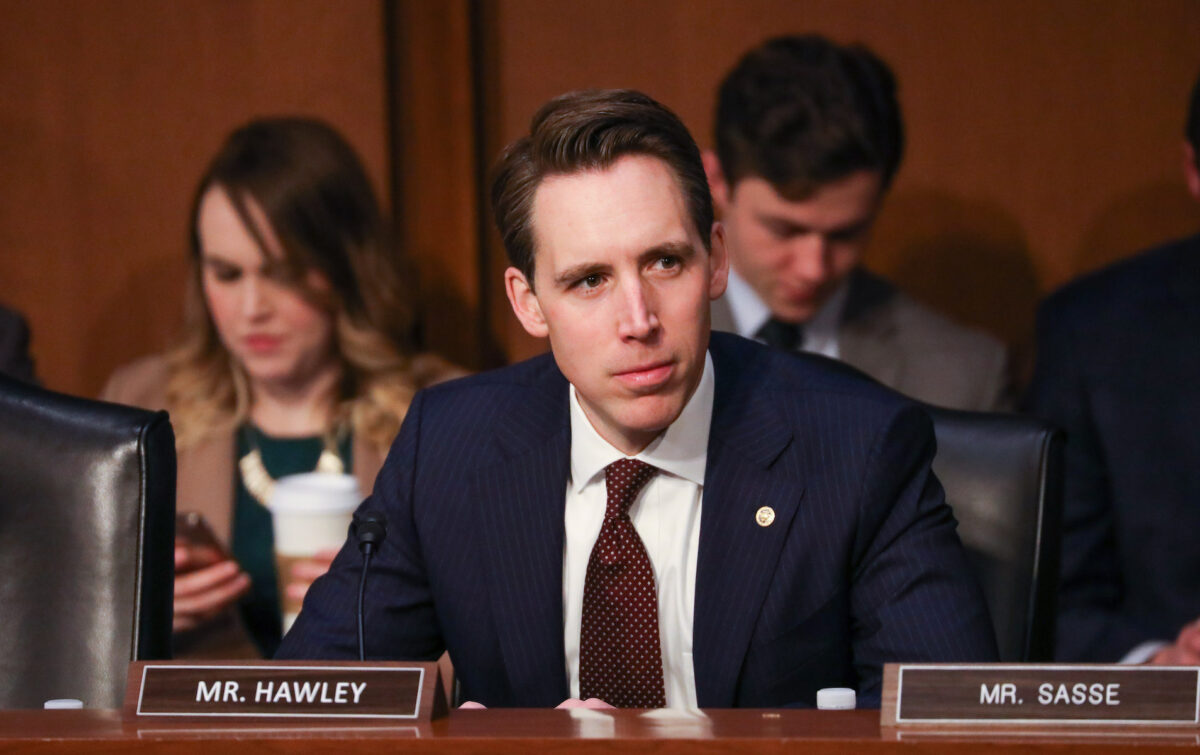 Sen. Josh Hawley (R-Mo.) announced late Thursday that he plans to dismiss two articles of impeachment that the Democrat-led House of Representatives passed against in December against President Donald Trump.
Hawley on Twitter outlines his reasoning for the move and said that Democrats "don't want to have a trial, because they have no evidence."
"Dems said impeachment was URGENT. Now they don't want to have a trial, because they have no evidence," Hawley wrote. "In real world, if prosecution doesn't proceed with case, it gets dismissed. So on Monday, I will introduce measure to dismiss this bogus impeachment for lack of prosecution."
"This will expose Dems' circus for what it is: a fake impeachment, abuse of the Constitution, based on no evidence," he added. "If Dems won't proceed with trial, bogus articles should be dismissed and @realDonaldTrump fully cleared."
Hawley said that his proposal would take the form of a motion to update Senate impeachment rules that will address what he calls an "unprecedented attempt to obstruct Senate trial."
The Epoch Times has reached out to the offices of Senate Majority Leader Mitch McConnell and Senate Minority Leader Chuck Schumer for comment.
The president in a tweet earlier this week quoted former Bush adviser Brad Blakeman who spoke to Fox News regarding the options the Senate can take once the impeachment articles are sent over from the House.
Trump wrote, quoting Blakeman, "'It's my opinion as a lawyer that the Articles of Impeachment are defective on their face, which means I would like to see a Motion to Dismiss and have this disbursed without the necessity of a trial. I don't think there should be a trial. I think it should be dismissed on 51 votes, which is procedural. You don't need two thirds.' Brad Blakeman @FoxNews A great lawyer & person. Thank you Brad!"
The Democrat-led House of Representatives formally charged Trump on Dec. 18 by approving two articles of impeachment (pdf)—abuse of power and obstruction of Congress. A Senate trial on the charges has not begun and the House has not passed the articles to the Senate.
House Speaker Nancy Pelosi (D-Calif.) said a day after the articles were passed that she won't send the articles to the Senate or decide on the impeachment managers until the Senate comes to an agreement with the House on trial rules.
"When we see what they [the Senate] have, we'll know who and how many to send over," Pelosi said at the time. "The next thing for us … is when we see the process set forth in the Senate. We will have the monitors set forth and who we will choose."
Pelosi has not disclosed when she plans to transmit the articles to the Senate.
Her decision sparked widespread confusion among lawmakers, analysts, and constitutional scholars, with some saying that Trump isn't actually impeached until the articles are submitted, and some arguing that Trump was impeached the moment the House approved the resolution containing the articles. Others say that the Senate can start a trial without receiving the articles.
Zachary Stieber contributed to this report.
Follow Mimi on Twitter: @MimiNguyenLy
---
IMPORTANT DISCLAIMER: The political opinions that are expressed in the re-published articles from other information media are not necessarily shared by the editors of ReporteroCubano.Net. | Visit the source for more information