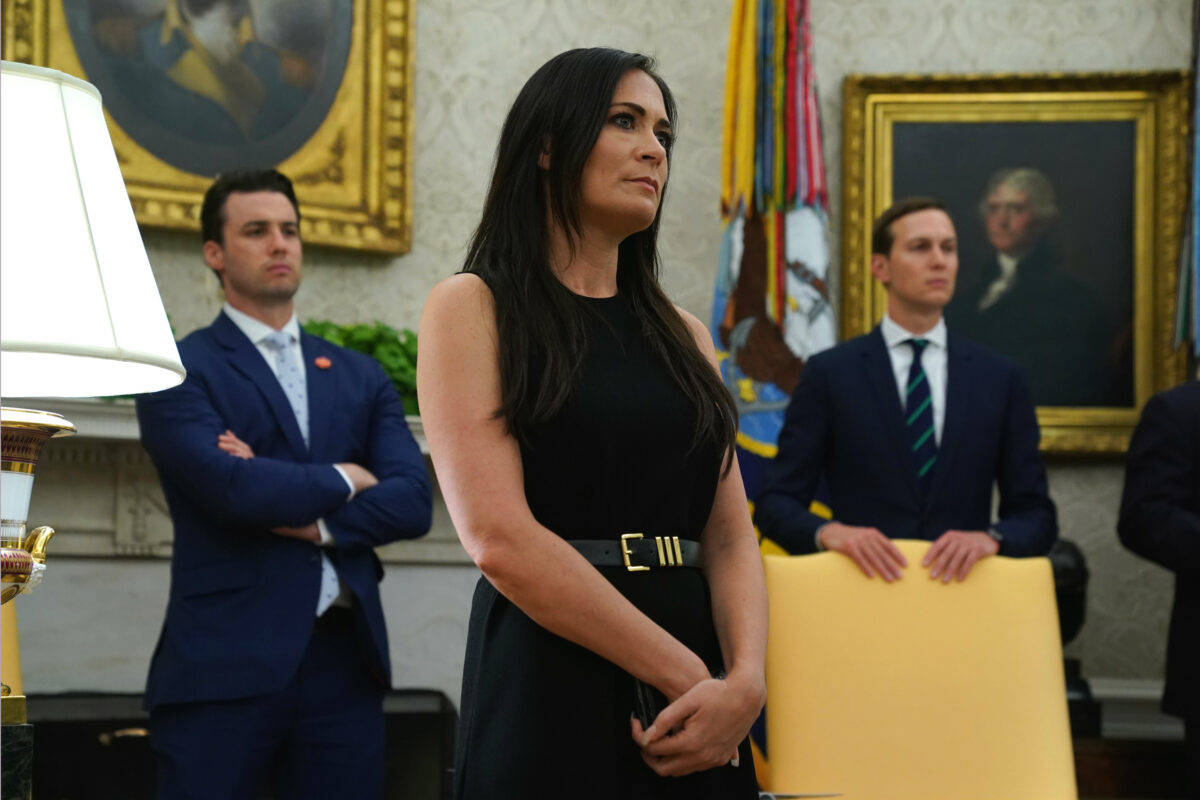 White House press secretary Stephanie Grisham will depart her role and will become First Lady Melania Trump's chief of staff and spokeswoman, according to a statement from the first lady's office.
"I am excited to welcome Stephanie back to the team in this new role," said Melania Trump in a statement on Tuesday morning. "She has been a mainstay and true leader in the Administration from even before day one, and I know she will excel as Chief of Staff. I appreciate all that Lindsay Reynolds did over the past three years, and wish her well in her future endeavors."
Grisham, who took the job as press secretary about a year ago, said she is honored to work for the first lady. Before taking the role as the top White House spokesperson, she worked for the first lady.
A replacement for Grisham, who took over when Sarah Huckabee Sanders left her role as White House press secretary, hasn't yet been named. Grisham notably did not host a press briefing at any point during her tenure and had a lower profile than Sanders and her predecessor, Sean Spicer.
"I continue to be honored to serve both the President and First Lady in the Administration," said Grisham. "My replacements will be announced in the coming days and I will stay in the West Wing to help with a smooth transition for as long as needed."
Grisham worked with President Donald Trump since his 2016 campaign and followed him to the White House, becoming a deputy press secretary under Spicer.
The first lady's office said her spokeswoman, Lindsay Reynolds, had resigned earlier in the week to spend more time with her family.
It came after Trump's new chief of staff Mark Meadows took over. He replaced Mick Mulvaney, who served in the role for more than a year.
Last month, Grisham had been self-quarantining at her home after she came into contact with a Brazilian official who tested positive for the Chinese Communist Party (CCP) virus, which causes COVID-19. She later reportedly tested negative for the virus.
Trump recently spoke about his administration's efforts on messaging during the CCP virus pandemic.
"We've done a poor job on press relationships, and I guess, I don't know who to blame for that," Trump said. "Maybe I can blame ourselves for that. I will blame ourselves. But I think we've done a great job. I think we've done a poor job in terms of press relationship."
---
IMPORTANT DISCLAIMER: The political opinions that are expressed in the re-published articles from other information media are not necessarily shared by the editors of ReporteroCubano.Net. | Visit the source for more information