President Donald Trump, in a series of Twitter posts on Thursday morning, assailed the House Democrats' strategy of holding back on sending the articles of impeachment to the Senate and accused them again of rushing the process in the lower chamber.
"The Radical Left, Do Nothing Democrats said they wanted to RUSH everything through to the Senate because 'President Trump is a threat to National Security' (they are vicious, will say anything!), but now they don't want to go fast anymore, they want to go very slowly. Liars!" Trump wrote.
Trump then singled out House Speaker Nancy Pelosi (D-Calif.) and California Gov. Gavin Newsom, a Democrat, for allegedly deteriorating conditions in their home state.
"Nancy Pelosi's District in California has rapidly become one of the worst anywhere in the U.S. when it come to the homeless & crime," Trump wrote on the social media website. "It has gotten so bad, so fast—she has lost total control."
The House impeachment process, he wrote, was "very unfair with no Due Process, proper representation, or witnesses. Now Pelosi is demanding everything the Republicans weren't allowed to have in the House. Dems want to run majority Republican Senate. Hypocrites!"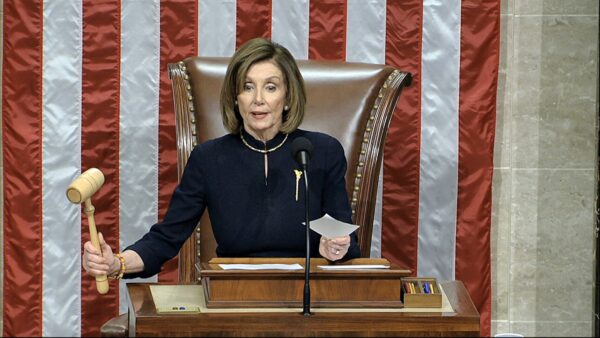 Trump on Wednesday criticized Newsom over homelessness and suggested his administration might take action.
"Governor Gavin N has done a really bad job on taking care of the homeless population in California. If he can't fix the problem, the Federal Govt. will get involved!" the president wrote. Trump's response came after Newsom told reporters the White House's Department of Housing and Urban Development, led by Secretary Ben Carson, have not properly addressed homelessness in the state.
"Shelters solve sleep. Housing and supportive services solve homelessness. Housing first. You have a new director on the Interagency Council on Homelessness in the United States appointed by Donald Trump that says housing [comes] fourth," said Newsom.
He added, "They're not serious about this issue. They're playing politics with it … There's been nothing but division coming and emanating from the folks at HUD and the Trump administration."
The president also noted that no Republicans voted with Democrats on impeachment during the vote in mid-December. Legal scholars, meanwhile, are still debating whether Trump was actually impeached after the House Democrats signaled they would not rush to send the articles to the Senate right away. Rep. Jeff Van Drew (R-N.J.) also switched parties and joined the GOP after the vote.
---
IMPORTANT DISCLAIMER: The political opinions that are expressed in the re-published articles from other information media are not necessarily shared by the editors of ReporteroCubano.Net. | Visit the source for more information