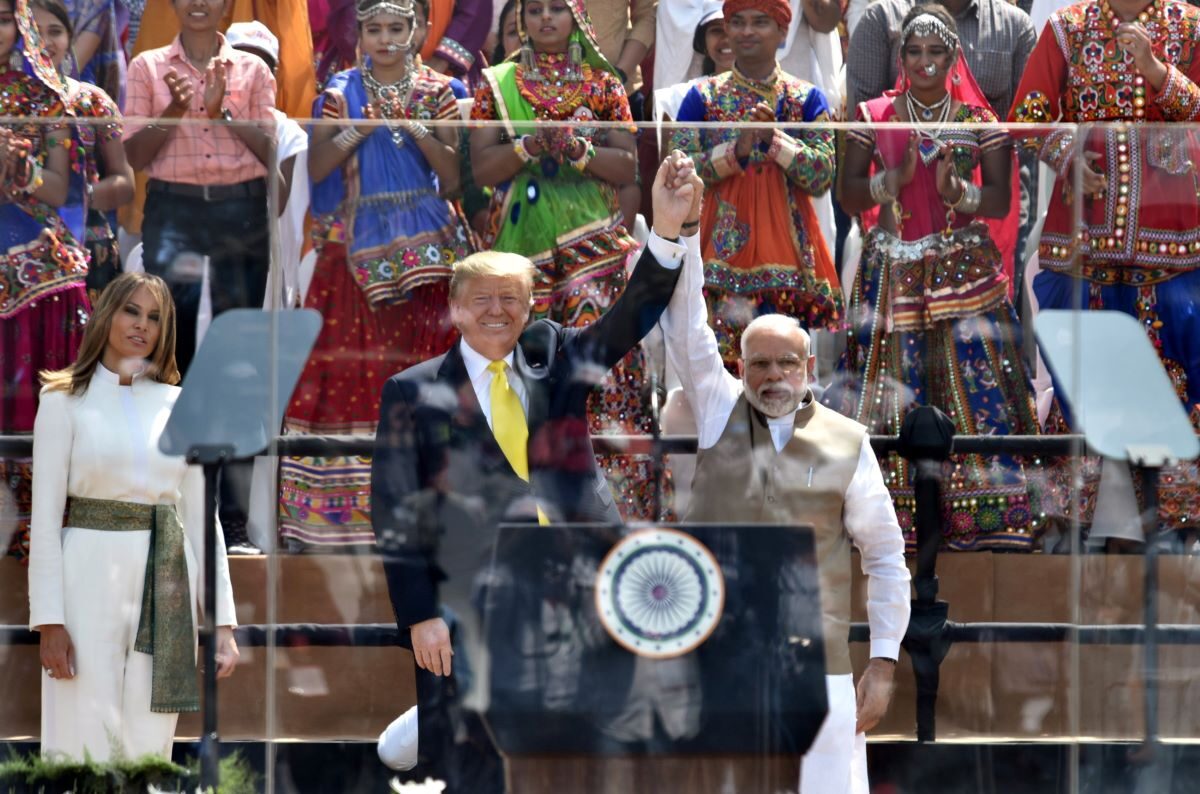 In a speech delivered to crowds at the world's largest cricket stadium in Ahmedabad city upon his arrival in India, Trump talked about India and the United States defending their "sovereignty and security" together and announced that the two nations would sign a defense deal worth $3 billion on Feb. 25.
Addressing a cheering crowd of over 100,000 people, Trump said on Monday: "I am pleased to announce that tomorrow our representatives will sign deals to sell over $3 billion in the absolute finest, state-of-the-art military helicopters and other equipment to the Indian armed forces."
Experts told The Epoch Times that the defense deal is important for the India-U.S. relationship and for the United State's geopolitical strategy in the Indo-pacific.
Jeff M. Smith, a South Asia research fellow at Heritage's Washington-based Asian Studies Center who was in New Delhi for a ground analysis, described India as "Asia's democratic heavyweight and a lynchpin of the administration's Indo-Pacific Strategy," in a pre-visit analysis.
In a message on Twitter on Feb. 24, Smith said Trump "paid appropriate homage to India's exceptional democracy. Conjured a powerful vision of India and the U.S. standing together as guardians of freedom in a troubled world.
"Early signs it has been very well received here in Delhi."
On Tuesday, Trump is expected to sign two major defense deals in New Delhi, $930 million for six Apache attack helicopters and $2.6 billion for 24 Seahawk/Romeo anti-submarine warfare helicopters, according to Smith.
"The United States looks forward to providing India with the best and most feared military equipment on the planet. We make the greatest weapons ever made–airplanes, missiles, rockets, ships. We make the best, and we are dealing now with India," Trump said in his speech.
Aparna Pande, research fellow and director of the India Initiative at the Washington-based Hudson Institute, told The Epoch Times that the India-U.S. defense relationship is one of the strongest aspects of their bilateral ties.
"From almost no purchases two decades ago, today the U.S. is among the top three suppliers to India," she said.
In his speech, Trump also highlighted the first-ever air, land, and sea military exercises between the Indian armed forces and the U.S. military.
"It was something to behold. We called it 'Tiger Triumph.'"
Kashish Parpiani, a research fellow with India-based Observer's Research Foundation, said the United States is playing a central role in building India's military capability.
"By announcing upcoming defense procurements within the context of the U.S. and India together defending their sovereignty, security, and protecting a free and open Indo-pacific, Trump sought to underscore the U.S.'s central role in India's military-capacity building," he said.
In his speech, Trump also highlighted the common threat from radical Islamic terrorism to both India and the United States.
"The United States and India are also firmly united in our ironclad resolve to defend our citizens from the threat of radical Islamic terrorism," he said.
Pande said the counter-terrorism cooperation between India and the United States extends to South Asia, Central Asia, and also the Middle East.
"Counter-terror cooperation between the two countries has deepened since 9/11 and the December 2001 attack on the Indian Parliament, but especially after the Mumbai terror attacks of 2008 when many Americans lost their lives," she explained.
She said that the defense deal and Trump's statements on sovereignty and security have geopolitical significance in the Asian region.
"As a post-colonial country and one that has territorial issues with its neighbors, especially Pakistan and China, it is important for India that its friends and partners reiterate support for territorial integrity and sovereignty," she said.
Parpiani, who studies U.S. foreign policy in the Asia-Pacific region, said it needs to be seen if the deals and statements will translate into "policy-level commitments."
"Jointly drawing a red line with respect to territorial aggrandisement remains to be seen in the expected joint vision statement on the Indo-Pacific."
Follow Venus on Twitter: @venusupadhayaya
---
IMPORTANT DISCLAIMER: The political opinions that are expressed in the re-published articles from other information media are not necessarily shared by the editors of ReporteroCubano.Net. | Visit the source for more information