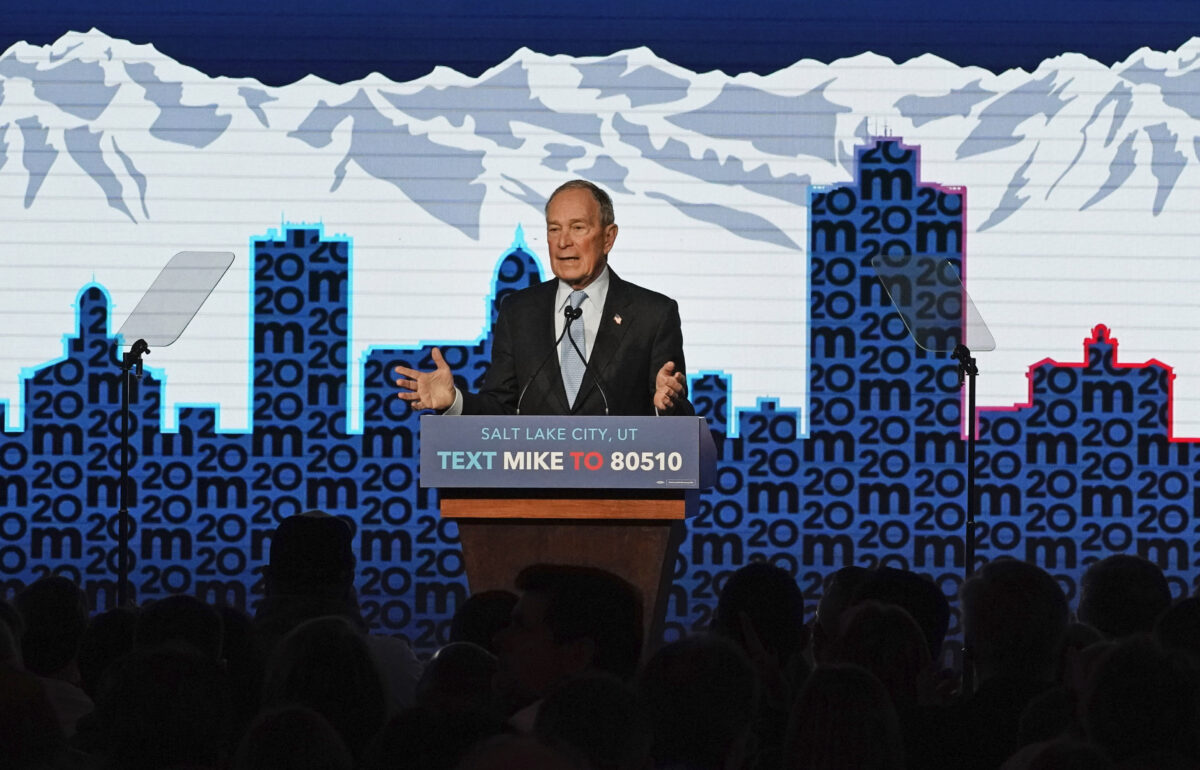 Twitter suspended 70 pro-Michael Bloomberg accounts from its platform, the company announced late on Friday, according to multiple news reports.
A Twitter spokeswoman told The Los Angeles Times that the company was temporarily suspending some and outright banning other accounts because they violated the platform's policies against spam and manipulation.
Twitter did not immediately respond to request for comment.
"We have taken enforcement action on a group of accounts for violating our rules against platform manipulation and spam," the Twitter spokesman told the LA Times.
The Bloomberg campaign told The Epoch Times in an email that its staffers use an app called Outvote to share the campaign's message with friends and family.
"We ask that all of our deputy field organizers identify themselves as working on behalf of the Mike Bloomberg 2020 campaign on their social media accounts," Twitter campaign spokeswoman Sabrina Singh wrote in an email.
The Bloomberg campaign has hired an army of people in California to post on their social media accounts in support of Bloomberg, according to the Wall Street Journal. These employees receive $2,500 a month to carry out standard campaign duties and send out pre-approved messages on social media.
A review of several accounts by the LA Times found a number of accounts using identical text, hashtags, and images. Such behavior is in violation of Twitter's manipulation and spam policy.
Bloomberg announced his candidacy on Nov. 24. The billionaire former New York City mayor has spent more than $400 million on the campaign since. He received little support in polls in December, but began to surge at the turn of the year and is currently in third place, according to an average of national polls maintained by Real Clear Politics.
Socialist Sen. Bernie Sanders leads the Real Clear Politics chart with an average of 28.7 percent support. Former Vice President Joe Biden trails Sanders by a wide margin at 17.3 percent. Biden had led in national polling for 14 months before a steady decline in polls which began in late January. Bloomberg is in third place with 15.2 percent.
The social media operation is part of a well-financed campaign that has experimented with new ways of reaching voters on social media, including paying $150 to "micro-influencers" to post messages of support on social media.
Bloomberg's campaign reported spending $220 million in the month of January alone. Forty-five million of that went toward digital advertising; another $126 million was spent on TV.
Payroll in January for his legions of staffers, who are paid above market-rate salaries, was $7.7 million, while corporate housing for many staffers cost an additional $1.2 million. Rent for his more than 100 campaign offices cost $1.3 million.
The Associated Press contributed to this report.
Follow Ivan on Twitter: @ivanpentchoukov
---
IMPORTANT DISCLAIMER: The political opinions that are expressed in the re-published articles from other information media are not necessarily shared by the editors of ReporteroCubano.Net. | Visit the source for more information